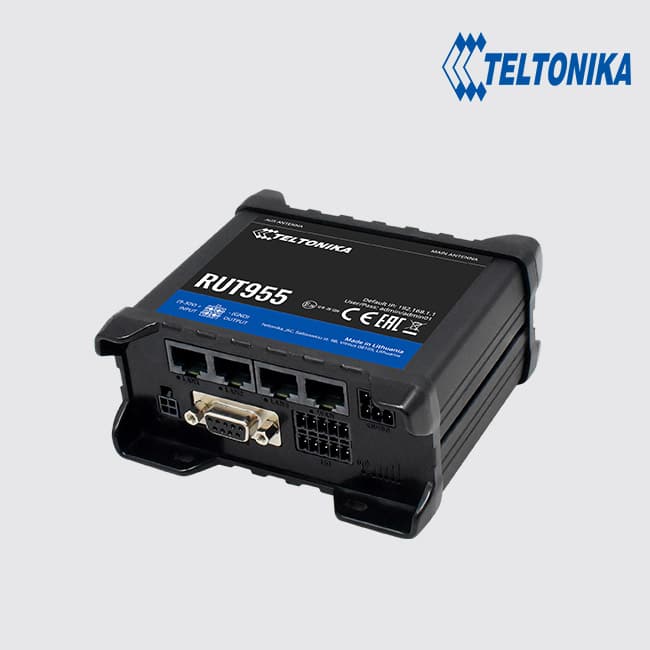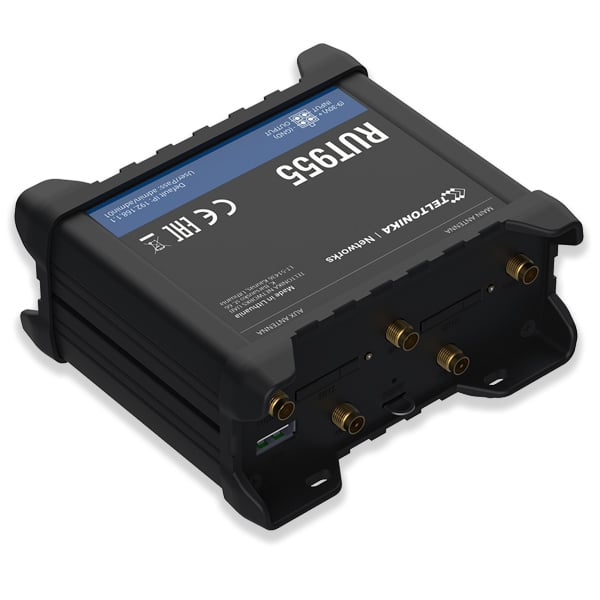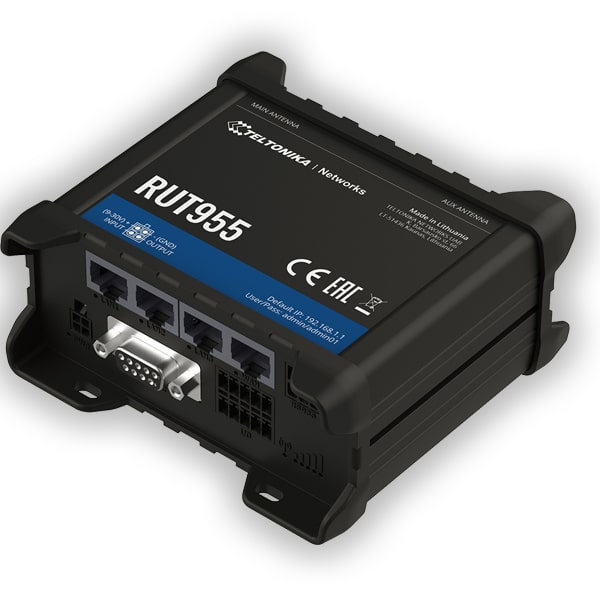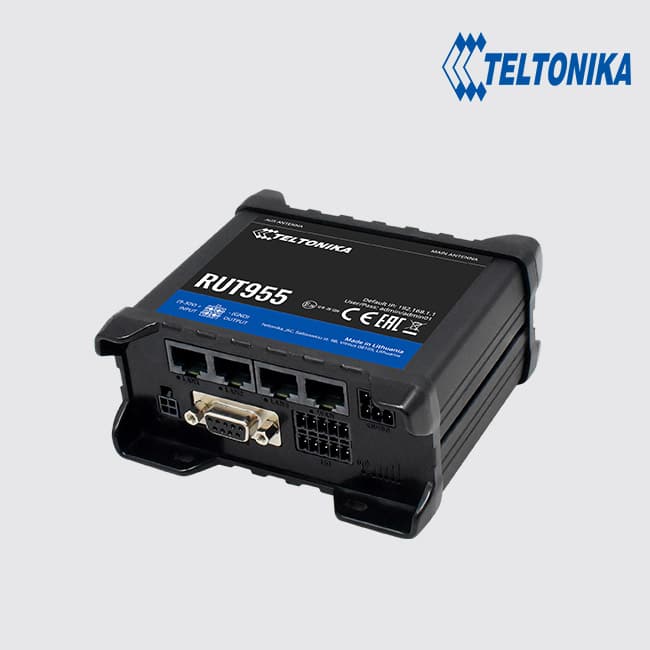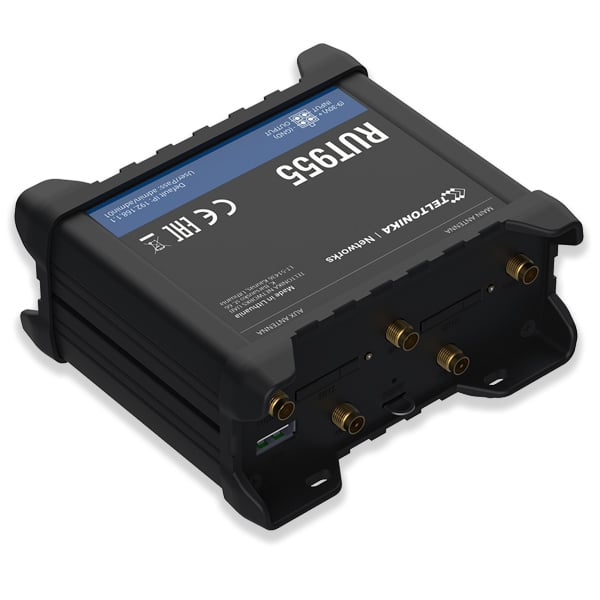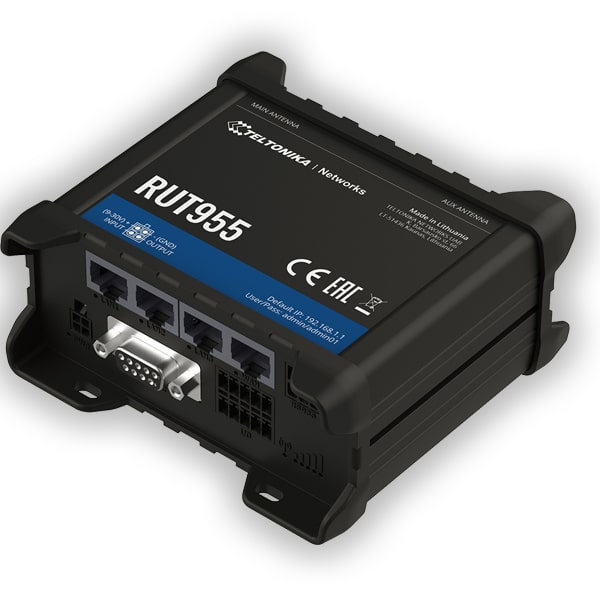 Teltonika RUT955 Industrial 4G/LTEWiFi Dual SIM Router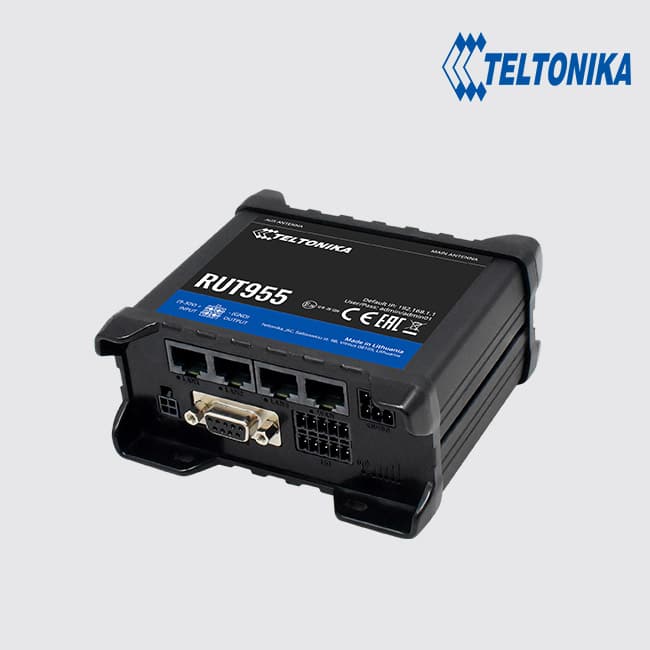 Teltonika RUT955 Industrial 4G/LTEWiFi Dual SIM Router
AED1,095.00 Excl. VAT.
AED1,095.00 Excl. VAT.
Teltonika RUT955
LTE 4G DUAL SIM Router
DUAL SIM Slots, No SIM Lock, with GPS.
2 x LTE antennas (magnetic mount, SMA male, 3 m cable)
2 x WiFi antennas (magnetic mount, RP-SMA male, 1.5 m cable)
GNSS antenna (adhesive , SMA male, 3 m cable)
RS485 connector block
QSG (Quick Start Guide)
Compare
Description
Additional information
Reviews (0)
Description
Teltonika RUT955 Industrial 4G/LTE WiFi Dual SIM Router | Industrial Cellular Router
Buy Teltonika RUT955 Industrial 4G/LTE & WiFi Dual SIM Router with Global Navigation Satellite System for location services and time synchronization.
Key Features
RUT955 is highly reliable and secure LTE router with I/O, GNSS and RS232/RS485 for phererofessional applications
Router delivers high performance, mission-critical cellular communication and GPS location capabilities
RUT955 is equipped with connectivity redundancy through dual SIM failover
External antenna connectors make it possible to attach desired antennas and to easily find the best signal location.
Specification:
Mobile module   : 4G (LTE) – Cat 4 up to 150 Mbps, 3G – Up to 42 Mbps, 2G – Up to 236.8 kbps
SIM switch           : 2 SIM cards, auto-switch cases: weak signal, data limit, SMS limit, roaming, no network, network denied, data connection fail, SIM idle protection
Status                    : Signal strength, SINR, RSRP, RSRQ, Bytes sent/received
Bridge                    : Direct connection (bridge) between mobile ISP and device on LAN
SMS                        : SMS status, SMS configuration, send/read SMS via HTTP POST/GET, EMAIL to SMS, SMS to EMAIL, SMS to HTTP, SMS to SMS, scheduled                                           SMS, SMS             autoreply, SMPP.
Multiple PDN       :  Possibility to use different PDNs for multiple network access and services
WIRELESS:
Wireless mode    : IEEE 802.11b/g/n, Access Point (AP), Station (STA)
WiFi                      : WPA2-Enterprise (with external/internal Radius server), WPA2-PSK, WPA-PSK, WEP, MAC Filter
WiFi security       : WPA2-Enterprise – PEAP, TLS, TTLS. AES-CCMP, TKIP, Auto Cipher modes. Client separation
ETHERNE:
WAN                      : 1 x WAN port (can be configured to LAN) 10/100 Mbps, comply IEEE 802.3, IEEE 802.3u standards, supports auto MDI/MDIX
LAN                        : 3 x LAN ports, 10/100 Mbps, comply IEEE 802.3, IEEE 802.3u standards, supports auto MDI/MDIX
NETWORK:
Routing                  : Static routing, Dynamic routing (BGP, OSPF v2, RIP v1/v2)
Connection monitoring: Ping Reboot, Periodic Reboot, LCP and ICMP for link inspection
SECURITY:
VLAN                     : Port based and tag based VLAN separation
Authentication     : Pre-shared key, digital certificates, X.509 certificates
WiFi security        : WPA2-Enterprise – PEAP, TLS, TTLS. AES-CCMP, TKIP, Auto Cipher modes. Client separation
Access control      : Flexible access control of TCP, UDP, ICMP packets, MAC address filter
VPN:
OpenVPN              : Multiple clients and server can be running simultaneously, 12 encryption methods
IPsec                       : IKEv1, IKEv2, supports up to 4 x VPN IPsec tunnels (instances), with 5 encryption methods (DES, 3DES, AES128, AES192, AES256)
OpenVPN Encryption: DES-CBC, RC2-CBC, DES-EDE-CBC, DES-EDE3-CBC, DESX-CBC, BF-CBC, RC2-40-CBC, CAST5-CBC, RC2-64-CBC, AES-128-CBC, AES-192-CBC, AES-256-CBC
MODBUS TCP SLAVE:
ID range                 : 1-255
Allow Remote Access: Allow access through WAN
SAFETY:
IEC 60950-1:2005 (Second Edition) + Am 1:2009 + Am 2:2013
AS/NZS 60950.1:2015
EN 50665:2017, EN 62311:2008
FCC 47 CFR Part 1 1.1310
RSS-102 Issue 5 (2015)
Additional information
Mobile module

4G (LTE) – Cat 4 up to 150 Mbps, 3G – Up to 42 Mbps, 2G – Up to 236.8 kbps

Wireless mode

IEEE 802.11b/g/n, Access Point (AP), Station (STA)

Ethernet

1 x WAN port (can be configured to LAN) 10/100 Mbps, comply IEEE 802.3, IEEE 802.3u standards, supports auto MDI/MDIX
3 x LAN ports, 10/100 Mbps, comply IEEE 802.3, IEEE 802.3u standards, supports auto MDI/MDIX

Routing

Static routing, Dynamic routing (BGP, OSPF v2, RIP v1/v2)

Power Input voltage range

9 – 30 VDC (4 pin industrial socket), reverse polarity protection; surge protection >31 VDC 10us max

Operating temperature

-40 °C to 75 °C