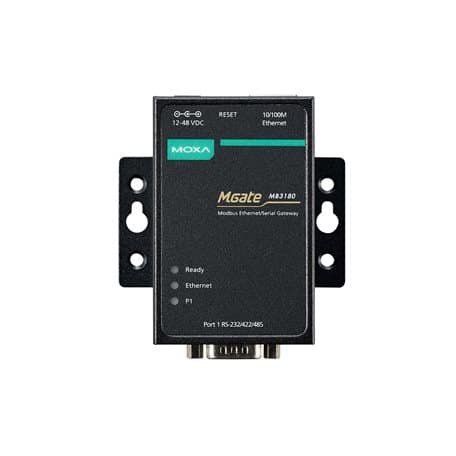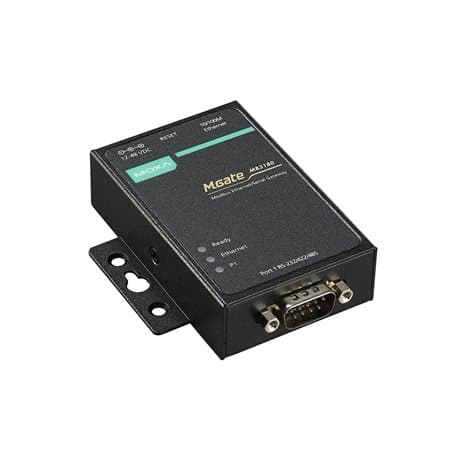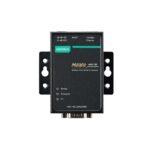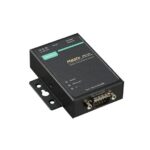 Moxa Mgate MB3180 1 Port RS-232/422/485 Modbus TCP to Serial Communication Gateway

Moxa Mgate MB3180 1 Port RS-232/422/485 Modbus TCP to Serial Communication Gateway
AED875.00 Excl. VAT.
AED875.00 Excl. VAT.
10/100Mb RJ45 (Megabit) Ports : 1 Port
RS-232/422/485 Ports : 1 Port
Warranty:  5 Years
Compare
Compare
Description
Additional information
Reviews (0)
Description
Moxa Mgate MB3180
Buy Moxa Mgate MB3180 1 Port RS-232/422/485 Modbus TCP to Serial Communication Gateway
Introduction
The MB3180, MB3280, and MB3480 are standard Modbus gateways that convert between Modbus TCP and Modbus RTU/ASCII protocols. Up to 16 simultaneous Modbus TCP masters are supported, with up to 31 RTU/ASCII slaves per serial port. For RTU/ASCII masters, up to 32 TCP slaves are supported.
The three standard MGate™ models (MB3180, MB3280, and MB3480) are designed for easy integration of Modbus TCP and RTU/ASCII networks. With these models, Modbus serial slave devices can be seamlessly incorporated into an existing Modbus TCP network, and Modbus TCP slaves can be made accessible to serial masters. The MB3180, MB3280, and MB3480 offer features that make network integration easy, customizable, and compatible with almost any Modbus network.
The MGate™ MB3000 gateways can effectively connect a high density of Modbus nodes to the same network. The MB3280 can manage up to 62 serial slave nodes, and the MB3480 can manage up to 124 serial slave nodes. Each RS-232/422/485 serial port can be configured individually for Modbus RTU or Modbus ASCII operation and for different baudrates, allowing both types of networks to be integrated with Modbus TCP through one Modbus gateway.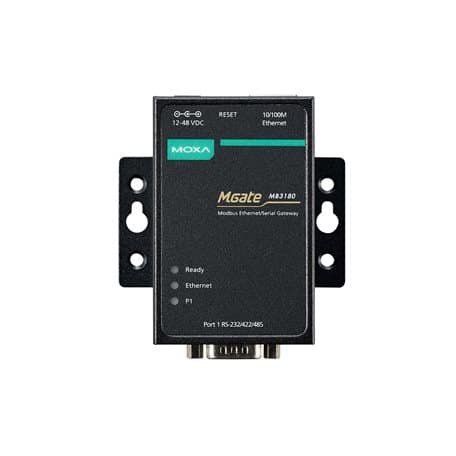 Features
serial to Ethernet Modbus gateway
1 x 10/100Mbps T(x) ports and 1 x RS-232/422/485 port
12 to 48 VDC input power
Metal body
0 to 60°C operating temperature
INDUSTRIAL GATEWAY : INTERFACE
10/100Mb RJ45 (Megabit) Ports
Yes : 1 Port
RS-232 Ports
No
RS-422/485 Ports
No
RS-232/422/485 Ports
Yes : 1 DB9-M port
INDUSTRIAL GATEWAY : SERIAL PORT SPECIFICATIONS
Serial Communication Parameters
Data Bits: 7, 8; Stop Bits: 1, 2; Parity: None, Even, Odd, Space, Mark
Flow Control
RTS / CTS, DTR / DSR only in RS-232 standard
Data transfer speed ( Baudrate )
0.05Kbps to 921.6kbps
RS-485 Flow Control
ADDC
Protection against electrostatic discharge
15KV
Electrical isolation
No
INDUSTRIAL GATEWAY : STANDARDS AND PROTOCOLS
Ethernet Protocol
Modbus TCP
Serial Protocol
Modbus RTU/ASCII Slave/Master
INDUSTRIAL GATEWAY : GENERAL
Management
Web Console, Serial Console, Telnet Console, Windows Utility, MGate Manager
Supported software
Smart Routing, MXview, SNMP v1 (read only)
Compatible operating systems
Windows 2000/XP/2003/Vista/Server 2008/7/8 (x86/x64), Windows Server 2008 R2/2012 x64
INDUSTRIAL GATEWAY : POWER REQUIREMENTS
Power Consumption (Output Adapter)
12V DC to 48V DC
Type of power input
Power Input Jack
INDUSTRIAL GATEWAY : PHYSICAL CHARACTERISTICS
Dimensions
22x52x80mm
Standards and Certifications
IP30, Safety: UL 60950-1, EN 60950-1; EMC: CE, FCC; EMI: EN 55022 Class A, FCC Part 15 Subpart B Class A; EMS: EN 55024, EN 61000-4-2 (ESD) Level 2, EN 61000-4-3 (RS) Level 2, EN 61000-4-4 (EFT) Level 2, EN 61000-4-5 (Surge) Level 2, EN 61000-4-6 (CS) Level 2, EN 61000-4-8 (PFMF) Level 1, EN 61000-4-11
Housing
Metal
Operating Temperature
0 to 55 ° C
Storage Temperature
-20 to 70 ° C
Operation Humidity
5% to %95 Non-condensing
Altitude
2000m
Additional information
| | |
| --- | --- |
| Brand | Moxa |
| USB Interface | USB 2.0 |
| Serial Standards | RS-232 |
| Warranty | 5 Year Warranty |