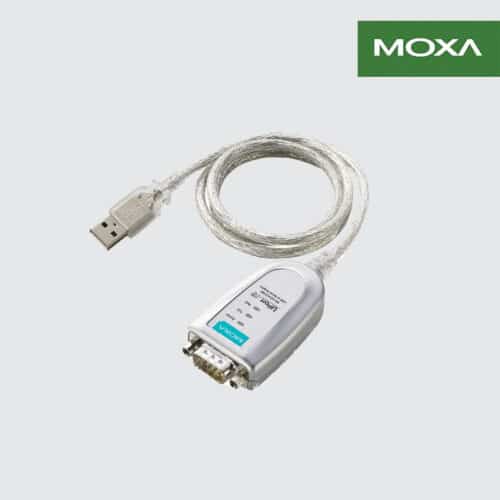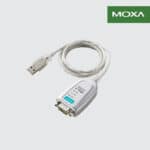 Moxa UPort 1110 1 Port RS-232 USB to Serial Converter

Moxa UPort 1110 1 Port RS-232 USB to Serial Converter
AED270.00 Excl. VAT.
AED270.00 Excl. VAT.
Brand: Moxa
Moxa UPort 1110 1 Port RS-232 USB to Serial Converter
Compare
Description
Additional information
Reviews (2)
Store Policies
Inquiries
Description
Moxa UPort 1110 1 Port RS-232 USB to Serial Converter
Buy UPort 1000 Series of USB-to-serial converters is the perfect accessory for laptop or workstation computers that do not have a serial port. They are essential for engineers who need to connect different serial devices in the field or separate interface converters for devices without a standard COM port or DB9 connector.
The UPort 1000 Series converts from USB to RS-232/422/485. All products are compatible with legacy serial devices, and can be used with instrumentation and point-of-sale applications.
Features and Benefits
Compatible with USB 2.0
12 Mbps USB data rate
921.6 Kbps maximum baudrate for super fast data transmission
Drivers provided for Windows, WinCE, and Linux
Mini DB9 female to terminal block adaptor for easy wiring
LEDs for indicating USB and TxD/RxD activity
15 KV ESD protection for all serial ports
Overview
The Moxa UPort 1100 Series enables your laptop or workstation with the ability to communicate between a USB (Universal Serial Bus) port and 1 RS-232 or RS-422/485 serial peripheral. UPort 1110 adds 1 Windows serial COM port via the PC's USB port, and is compatible with both new or legacy RS-232 devices. This plug and play USB solution is perfect for mobile, instrumentation, and point-of-sale applications.
Moxa UPort 1110 1 Port RS-232 USB to Serial Converter, the UPort 1130 from USB to RS-422/485, and the UPort 1150 from USB to RS-232/422/485.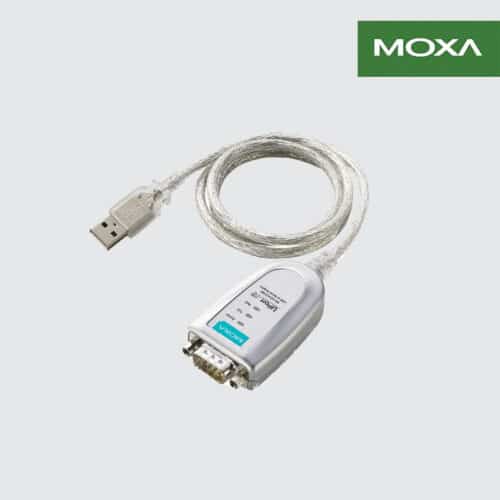 Typical Application—Surveillance Monitoring System
The most basic video surveillance setup consists of a single camera connected directly to a monitor and recording device.
Moxa's UPort 1110/1150 converters provide plug-and-play serial device connectivity without having to install new adapter boards, which usually requires opening of computer/server chassis
USB Interface
Compliance: USB 1.0/1.1 compliant, USB 2.0 compatible
Connector:
UPort 1110/1130/1130I/1150: USB Type A
UPort 1150I: USB Type B
Speed: 12 Mbps (Full-Speed USB)
Serial Interface
Number of Ports: 1
Serial Standards:
UPort 1110: RS-232
Additional information
| | |
| --- | --- |
| Brand | Moxa |
| Ports/slots | 1 |
| Connector | USB type A |
| Serial Standards | UPort 1110 RS-232 |
| Power Consumption | UPort 1110 77 30 mA @ 5 VDC |
General Inquiries
There are no inquiries yet.