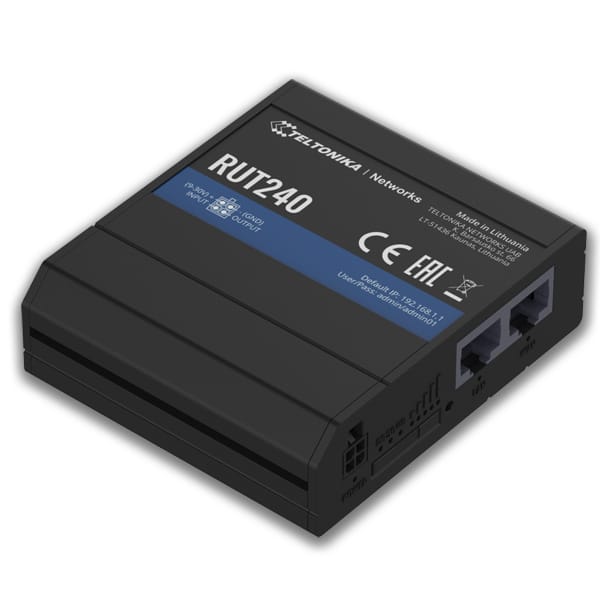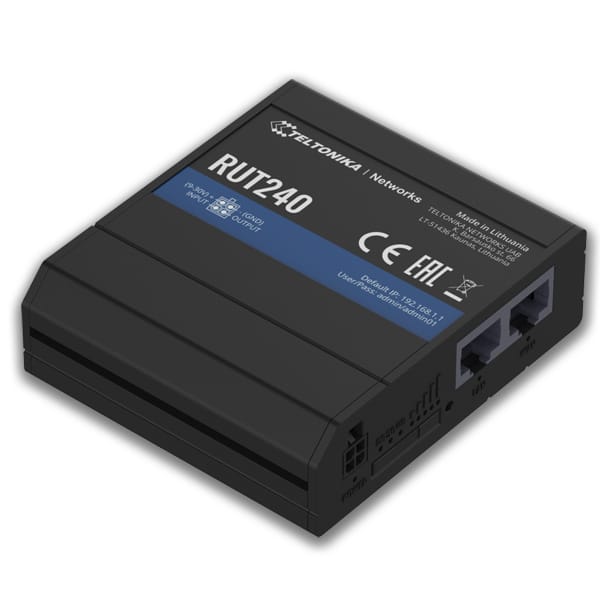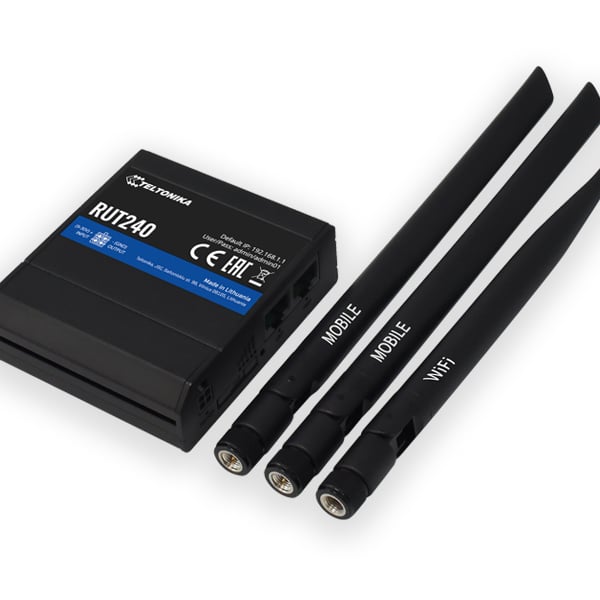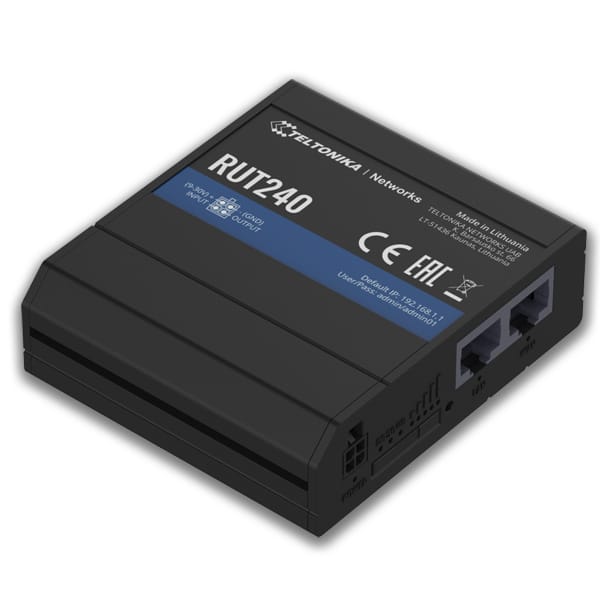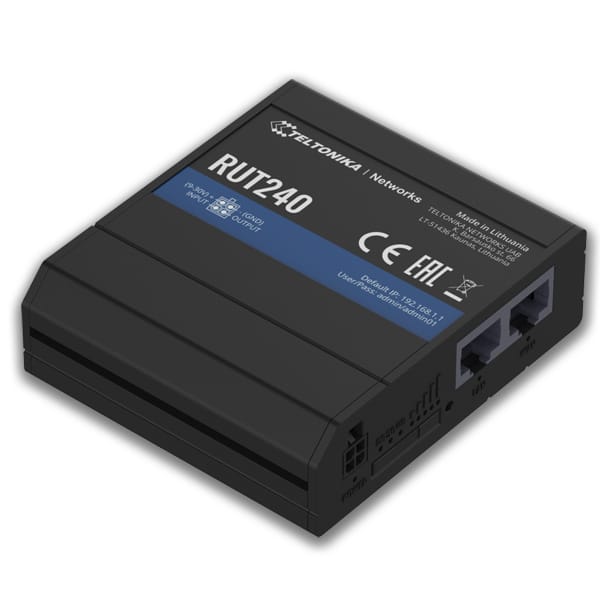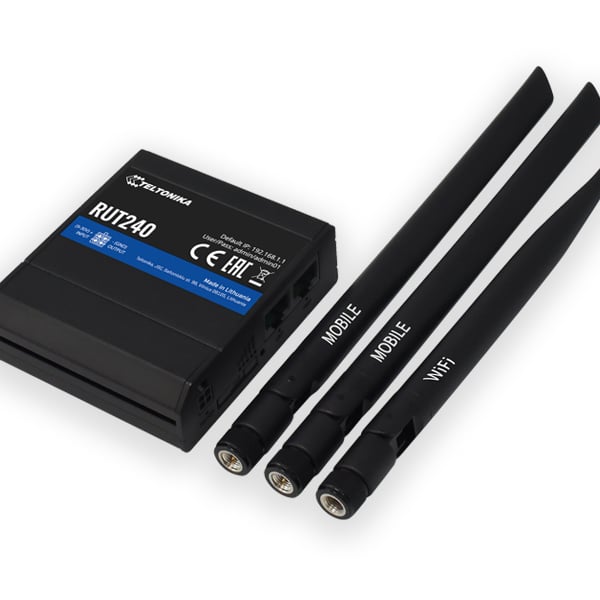 Teltonika RUT240 LTE Router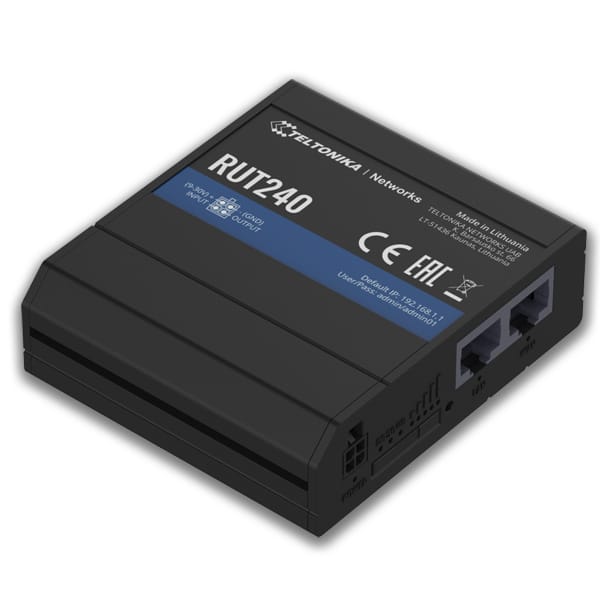 Teltonika RUT240 LTE Router
AED750.00 Excl. VAT.
AED750.00 Excl. VAT.
Teltonika RUT240 LTE Router.
WiFi users: Up to 50 simultaneous connections
WAN: 1 x WAN port
LAN: 1 x LAN port
Mounting options: Bottom and sideways DIN rail mounting slots
Operating temperature: -40 °C to 75 °C
Input voltage range: 9 – 30 VDC
Ingress Protection Rating: IP30
Compare
Description
Additional information
Reviews (0)
Description
Teltonika RUT240 LTE Router
Key Features
Buy Teltonika RUT240 LTE Router is a compact, cost-effective and powerful industrial LTE router for professional applications
This router delivers high performance for mission-critical cellular communication
Equipped with external SIM holder and signal strength status LEDs, it ensures easy network management
External antenna connectors make it possible to attach desired antennas and to easily find the best signal location.
Input Voltage: 9-30 Vdc
Teltonika has invested in a comprehensive wiki which provides documentation and a Q&A forum.  Kindly check the wiki for common use patterns with step by step guides, and the manual for a complete documentation of every feature of the product.
CONNECTIVITY
4G/LTE (Cat 4), 3G, 2G
WAN FAILOVER
Automatic switching to available Backup connection
WIFI
Wireless Access Point with Hotspot functionality
COMPACTNESS
Small size – easy integration
I/O
Digital Input/Output for remote monitoring and control
RMS
Compatible with Teltonika Remote Management System
MEET THE RUT240
RUT240 is an all-time bestseller industrial 4G LTE Wi-Fi router for professional M2M & IoT applications.
It delivers high performance for mission-critical cellular communication in rigorous environments.
RUT240 is widely used for 4G backup, Remote Connection, Advanced VPN, and tunneling services in IoT networking solutions.
WAN failover ensures automatic switch to alternative backup connection in case of any connectivity issues.
The Wi-Fi is functional in both: Access point and Station mode at the same time
FEATURES
Mobile module : 4G (LTE) – Cat 4 up to 150 Mbps, 3G – Up to 42 Mbps, 2G – Up to 236.8 kbps
Status : Signal strength (RSSI), SINR, RSRP, RSRQ, EC/IO, RSCP Bytes sent/received
Bridge : Direct connection (bridge) between mobile ISP and device on LAN
SMS : SMS status, SMS configuration, send/read SMS via HTTP POST/GET, EMAIL to SMS, SMS to EMAIL, SMS to HTTP, SMS to SMS,
scheduled SMS, SMS autoreply, SMPP
Passthrough : Router assigns its mobile WAN IP address to another device on LAN
APN : Auto APN
Black/White list: Operator black/white list
Multiple PDN (optional) : Possibility to use different PDNs for multiple network access and services
Wireless mode : IEEE 802.11b/g/n, Access Point (AP), Station (STA)
Additional information
Brand

Teltonika

Mobile module

4G (LTE) – Cat 4 up to 150 Mbps, 3G – Up to 42 Mbps, 2G – Up to 236.8 kbps

Wireless mode

IEEE 802.11b/g/n, Access Point (AP), Station (STA)

Ethernet

1 x WAN port (can be configured to LAN) 10/100 Mbps, comply IEEE 802.3, IEEE 802.3u standards, supports auto MDI/MDIX
1 x LAN port, 10/100 Mbps, comply IEEE 802.3, IEEE 802.3u standards, supports auto MDI/MDIX

Routing

Static routing, Dynamic routing (BGP, OSPF v2, RIP v1/v2, RIPng, OSPF6)

Power Input voltage range

9 – 30 VDC

Operating temperature

-40 °C to 75 °C