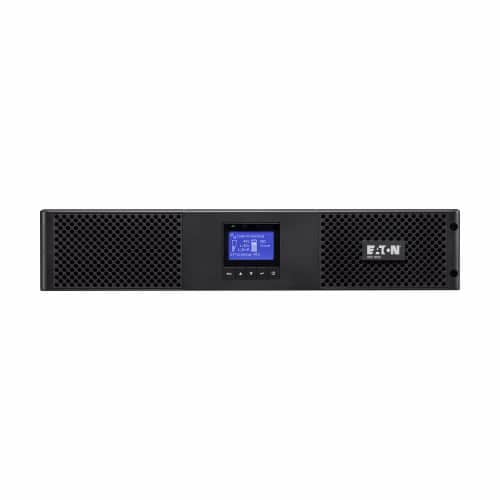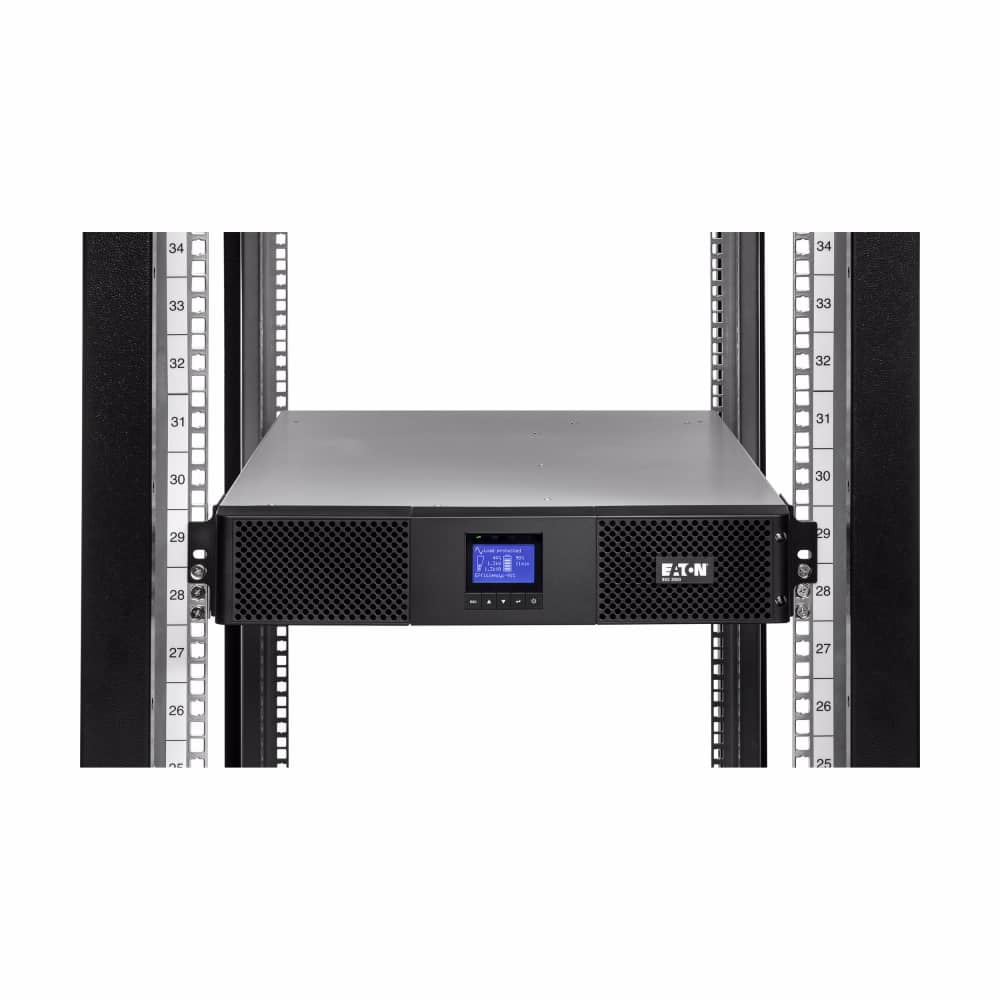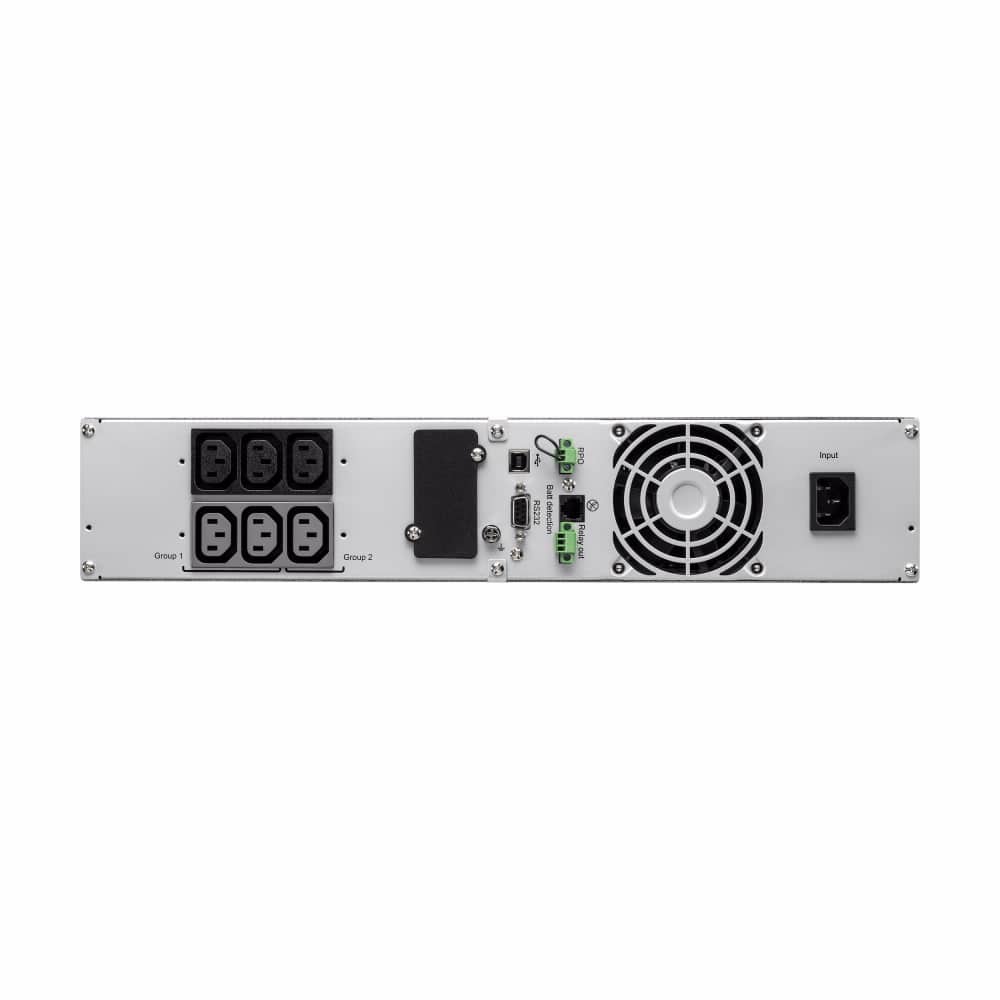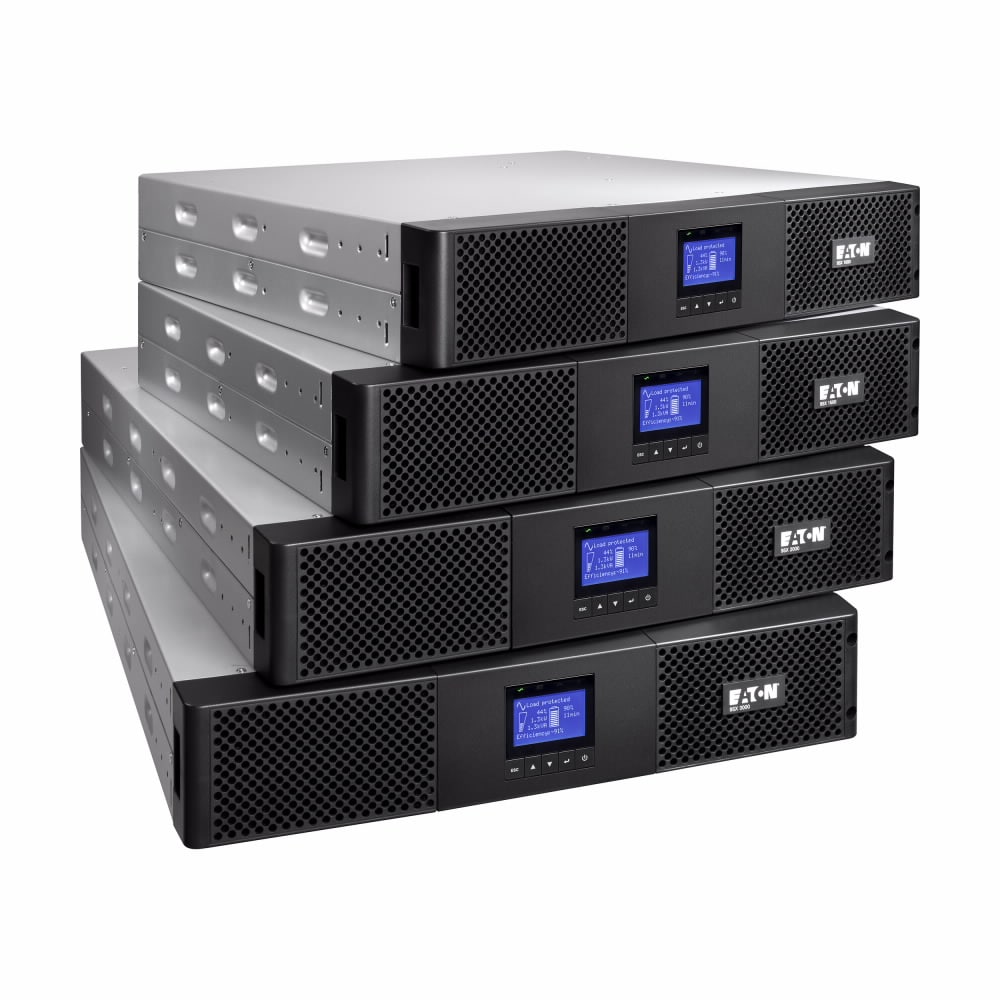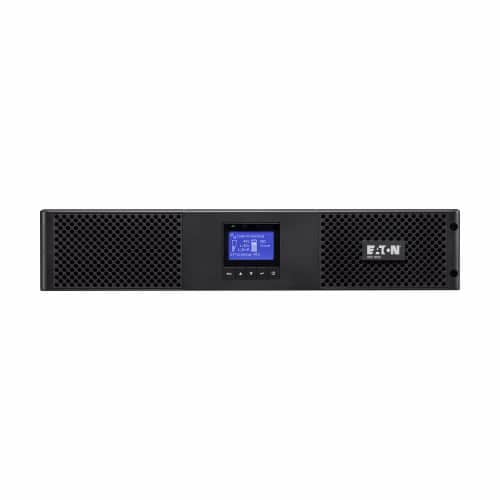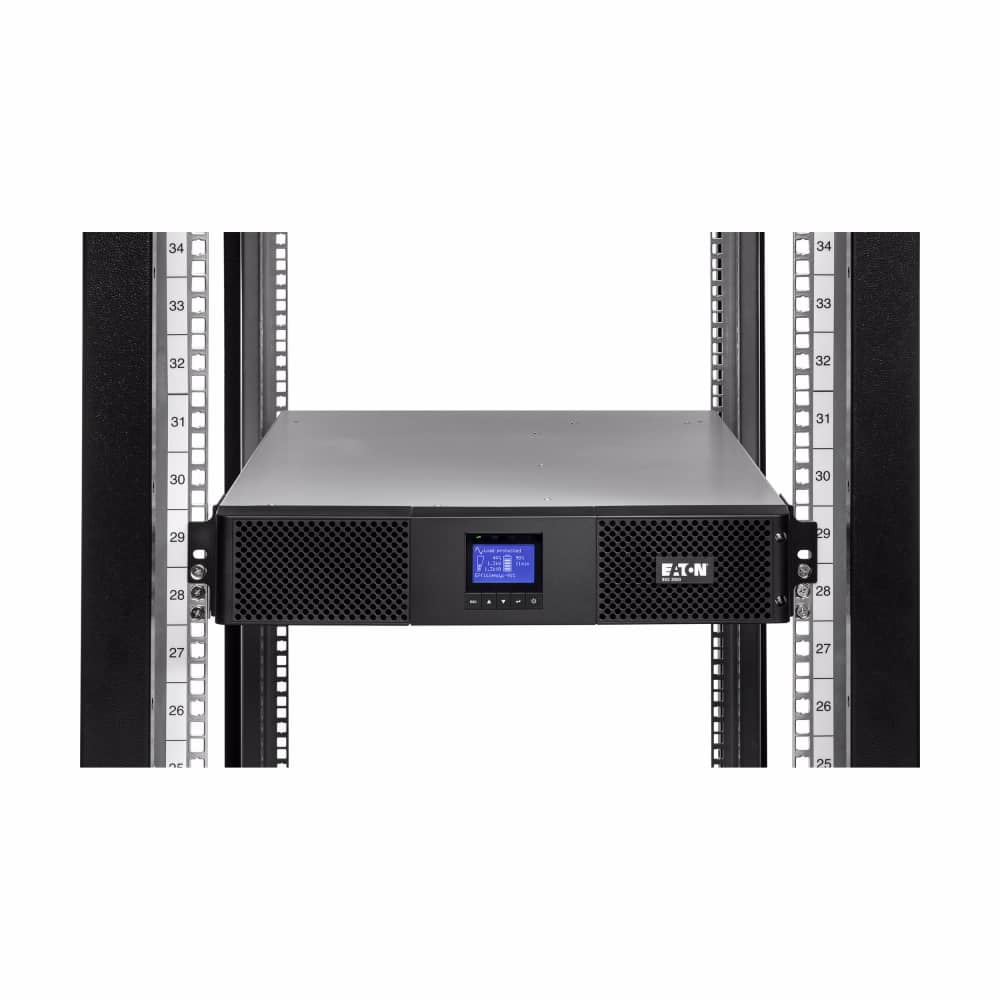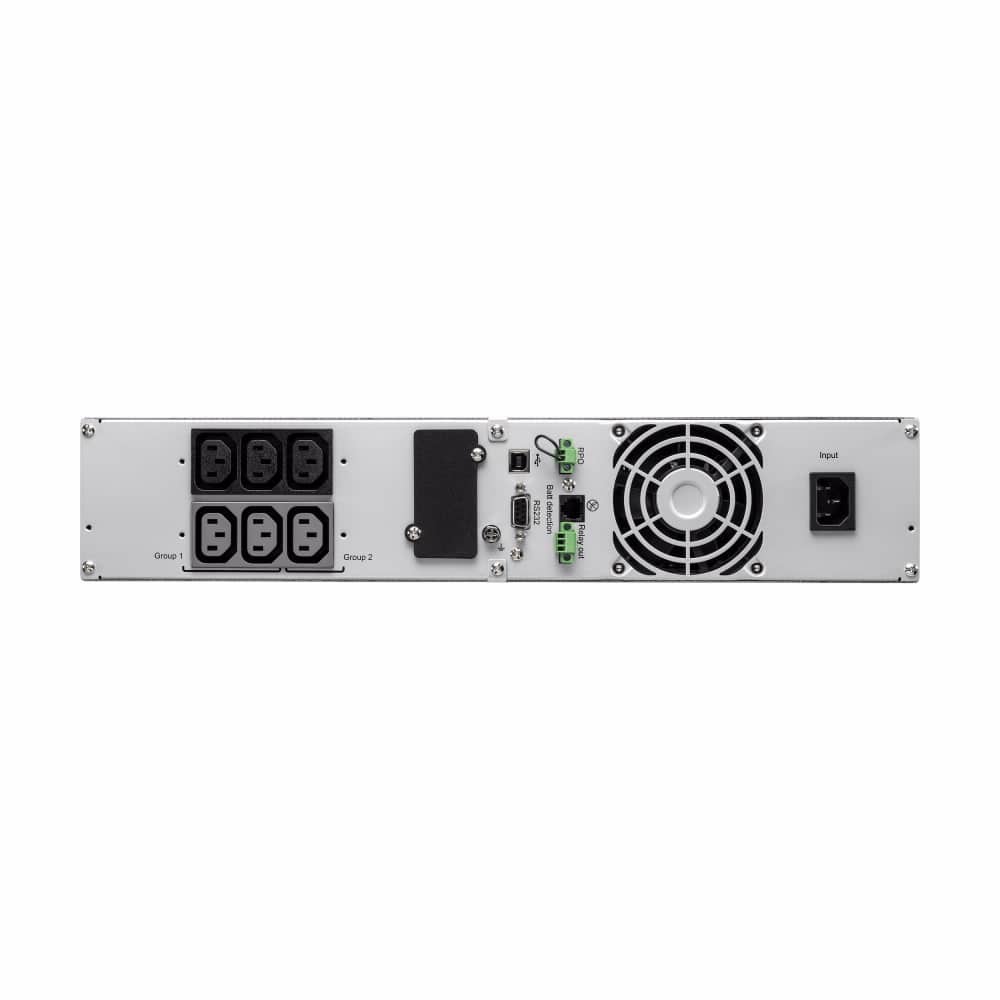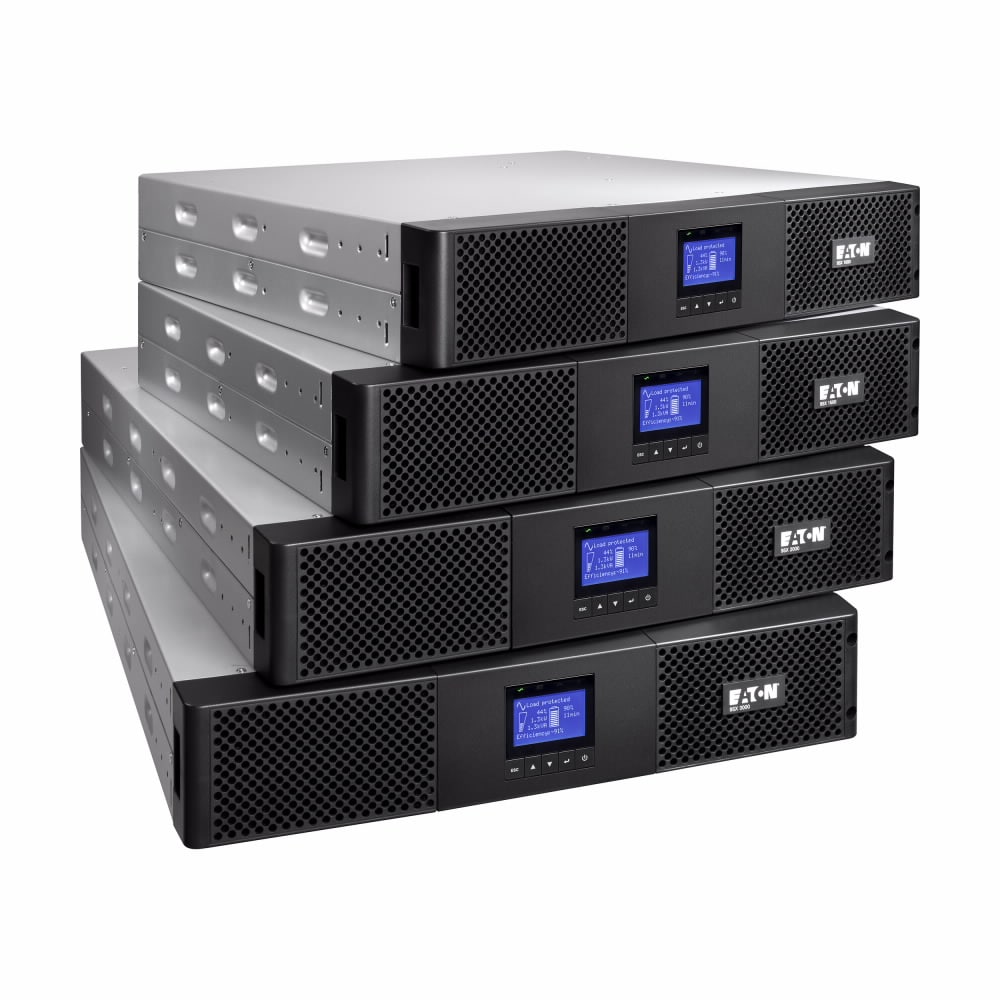 Eaton 9SX 1000i Rack2U, 1000VA, 900W, On-Line Double Conversion UPS 9SX1000IR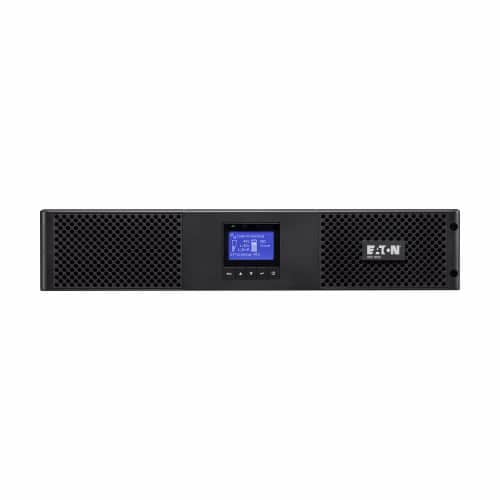 Eaton 9SX 1000i Rack2U, 1000VA, 900W, On-Line Double Conversion UPS 9SX1000IR
Excl. VAT.
Excl. VAT.
Eaton 9SX 1000i Rack2U, 1000 VA, 900 W, 9SX1000IR Input: C14, Outputs: (6) C13, Rack, 2U
Compare
Description
Additional information
Reviews (0)
Store Policies
Inquiries
Description
Eaton 9SX 1000i Rack2U, 1000 VA, 900 W, 9SX1000IR Input: C14, Outputs: (6) C13, Rack, 2U On-Line Double Conversion UPS
Buy Eaton 9SX 1000i Rack2U, 1000 VA, 900 W, 9SX1000IR
GENERAL SPECIFICATIONS
PRODUCT NAME: Eaton 9SX UPS
CATALOG NUMBER: 9SX1000IR
PRODUCT LENGTH/DEPTH: 438 MM
PRODUCT HEIGHT: 86.5 MM
PRODUCT WIDTH: 438 MM
PRODUCT WEIGHT: 15.7 KG
WARRANTY: 2 year
COMPLIANCES: CE Marked, TUV, cULus Listed, CSA 22.2, FCC part 15 Class B, CISPR22 Class B
CERTIFICATIONS: IEC/EN 62040-1, UL 1778, IEC/EN 62040-2, CE, cULus Listed, EAC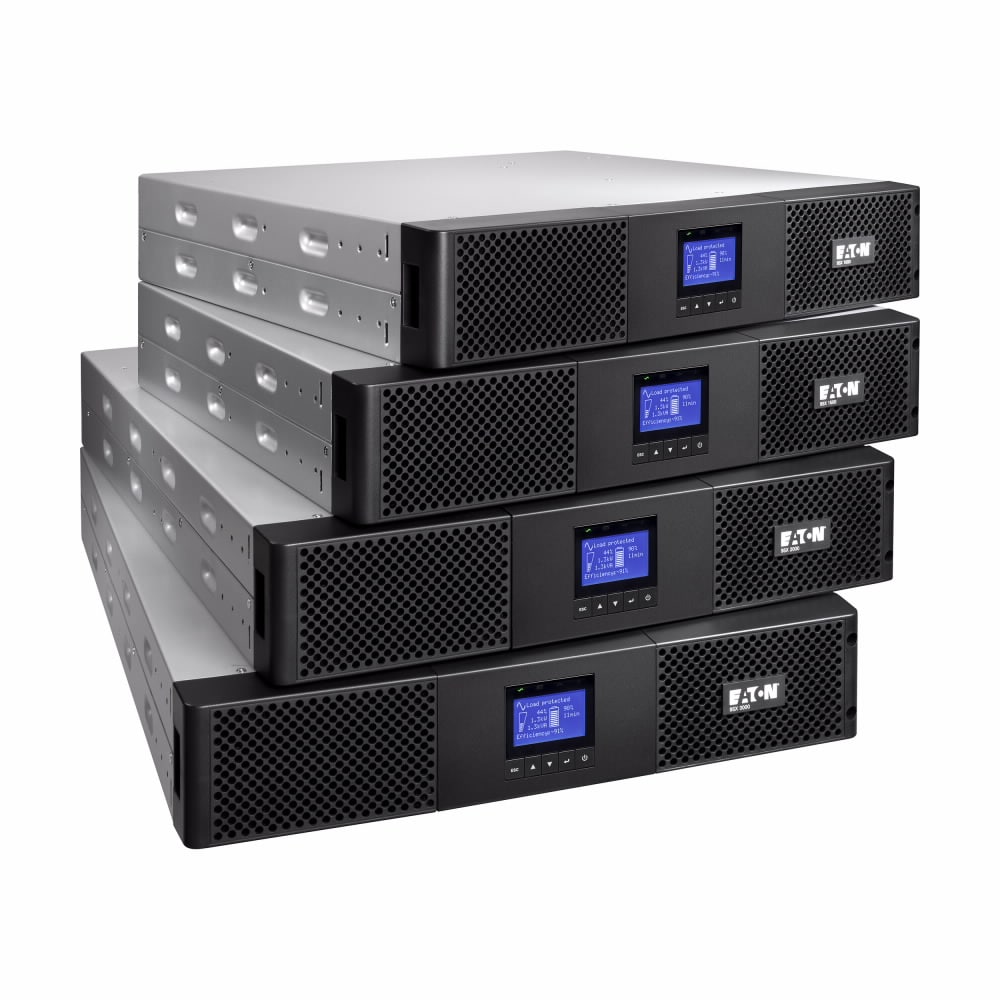 PRODUCT SPECIFICATIONS
SECONDARY FREQUENCY – MAX 60 HZ
OUTPUT WAVEFORM Sine wave
MAX NUMBER OF BATTERY PACKS 4
WATTAGE 900 W
OUTPUT POWER FACTOR 0.9
FORM FACTOR Rack
VOLTAGE DISTORTION OUTPUT (LINEAR LOAD) – MAX 3
INCLUDES NETWORK CARD No
INPUT CONNECTION C14
INPUT VOLTAGE – MIN 120 V
OUTPUT VOLTAGE – MAX 240 V
SECONDARY FREQUENCY – MIN 50 HZ
SOFTWARE COMPATIBILITY
Eaton Intelligent Power Manager, Eaton Intelligent Power Protector
BATTERY REPLACEMENT
Hot-swappable internal batteries and extended battery modules (EBMs)
BATTERY TYPE
Sealed, lead-acid
EFFICIENCY: 89
CONSTRUCTION TYPE: 482.6 mm (19 inch) device
OUTPUT VOLTAGE – MIN: 200 V
COLOR: Black
OUTPUT VOLTAGE RANGE
200/208/220/230/240V +/- 2%
EXTENDED BATTERY CAPABILITY: Yes
TOPOLOGY: Online/Double-conversion
BTU RATING
Online: 375
BACK-UP TIME: 6 min
INPUT NOMINAL VOLTAGE
230V default (200/208/220/230/240/250V)
INPUT POWER FACTOR: >.99
INPUT FREQUENCY RANGE: 40-70 Hz
INTERNAL BYPASS:Yes
INPUT VOLTAGE – MAX: 276 V
VOLTAGE TYPE: AC
PHASE (OUTPUT): 1
BATTERY MANAGEMENT
ABM & Temperature compensated charging method (user selectable), Automatic battery test, deep discharge protection, automatic recognition of external battery units
INTEGRATED FUNCTIONALITY: Network Mangement
AUTO SHUTDOWN FUNCTION:Yes
NUMBER OF OUTPUTS C13: 6
VA RATING: 1000 VA
POTENTIAL FREE SWITCH CONTACT: Yes
RECEPTACLE:(6) C13
PHASE (INPUT): 1
PACKAGE CONTENTS: 9SX UPS
2 IEC output power cords: USB Cable
Serial Cable: 2 brackets for 19' mounting
2 universal rails
NOISE LEVEL: <41 dB at 1 meter
FEED TYPE: 1
USER INTERFACE: Multilingual graphical LCD display
BATTERY QUANTITY: 3
RACK SIZE:2U
VOLTAGE: 230V
HOT SWAP POWER: No
TEMPERATURE RANGE: 0° to 40°C (32° to 104°F)
ETHERNET INTERFACE: No
COMMUNICATION
1 USB port + 1 serial RS232 port + 1 mini-terminal block for remote power off + 1 mini-terminal block for output relay Communication slot
RELATIVE HUMIDITY: 0-96% non-condensing
RACK MOUNTING KIT: Yes
EFFICIENCY (ECO-MODE): 95
OUTPUT FREQUENCY: 50-60 Hz
RUNTIME AT FULL LOAD: 6 min
TYPE OF INTERFACE
BATTERY RATING: 12V/9Ah
OUTPUT NOMINAL VOLTAGE: 230V default (200/208/220/230/240V)
INPUT VOLTAGE RANGE
190-276VAC without derating(up to 120-276VAC with derating)
NOMINAL FREQUENCY
50/60 Hz
PRIMARY FREQUENCY – MAX: 70 HZ
ALTITUDE:3000 m
Additional information
| | |
| --- | --- |
| Brand | Eaton |
| Topology | On-Line Double Conversion |
| Rating (VA/Watts) | 1000/900 |
| Input Connection | C14 |
| Output Outlets | (6) IEC-320-C13 |
General Inquiries
There are no inquiries yet.