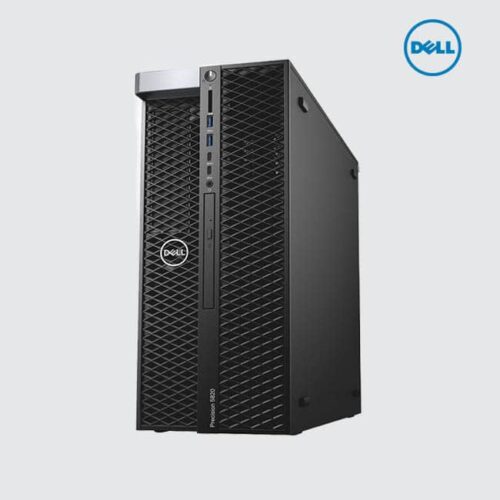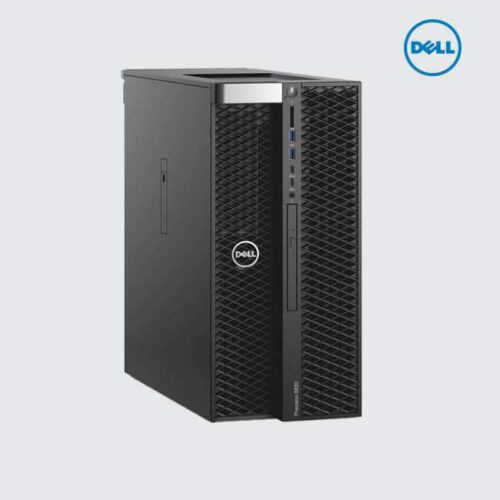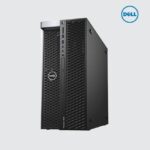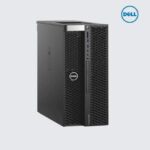 Dell Precision T5820 Workstation

Dell Precision T5820 Workstation
AED8,250.00 Excl. VAT.
AED8,250.00 Excl. VAT.
Dell Precision T5820 Workstation
Intel Xeon W-2123
16GB (2X8GB) DDR4
1TB, (7,200 RPM)
NVIDIA Quadro P2000 5GB
Compare
Compare
Description
Additional information
Reviews (0)
Description
Dell Precision T5820 Workstation
Buy Precision T5820 -Windows 10 Pro for Workstation (up to 4 Cores), Intel Xeon W-2123 3.6GHz, 3.9GHz Turbo, 4C, 8.25M Cache, HT, (120W), 16GB (2x8GB) DDR4 2666MHz RDIMM ECC, 3.5″ 1TB 7200rpm SATA Hard Drive, 16x Half Height DVD-/+RW, NVIDIA Quadro P2000 5GB Graphics, 4 DP (5820T) + 3Y Basic end user next business day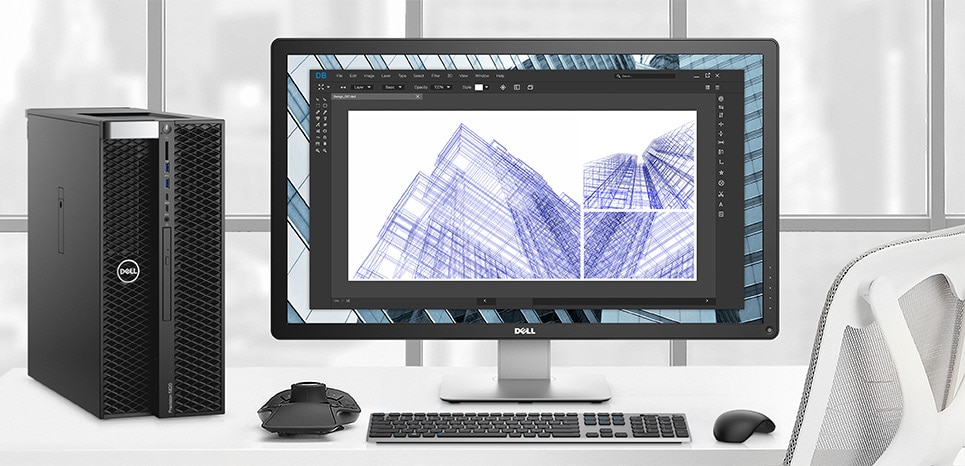 Perfected to your vision.
Expand your ideas with the Precision 5820 Tower. Featuring high performance in a new innovative, versatile compact design.
Operating System
Available with Windows 10 Pro – for a smooth, versatile PC experience.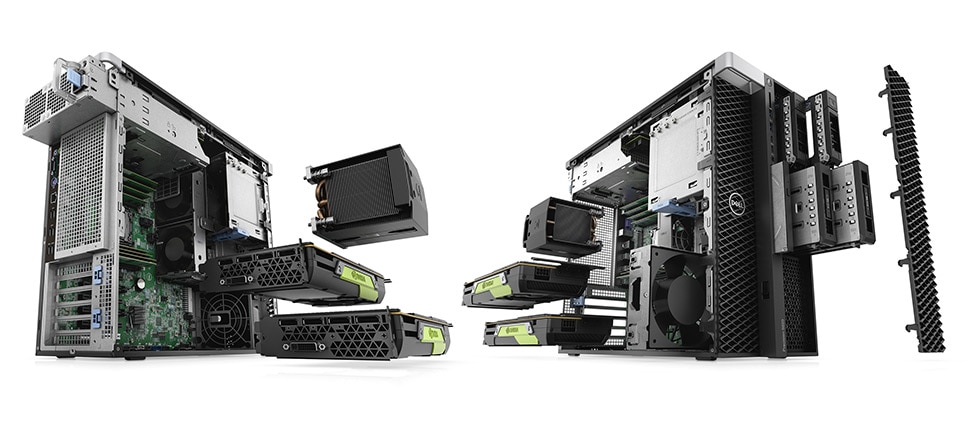 Blazing fast performance
Brainpower that matches yours: The latest Intel® Xeon® processor powers your most demanding applications. Now featuring a new generation of single-socket architecture with up to 18 cores
you can extract maximum performance for your biggest ideas.
Accelerate every project: Run your software as fast as possible and get real-time results thanks to this memory expandable machine with up to 256GB of faster 2666 MHz RDIMM memory.
Drown out distraction: Focus on your tasks with the workstation that's quieter than ever.
A new multichannel thermal design delivers advanced cooling and acoustics for enhanced cooling and quiet operation when your system is under heavy workloads.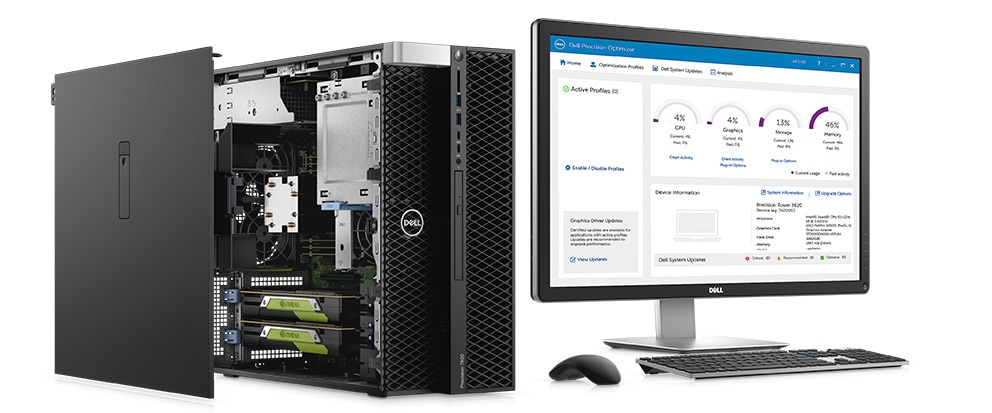 Built for your future
Your Precision 5820 Tower grows with your ideas no matter where they take you, thanks to a new chassis that combines a versatile design with outstanding storage scalability.
Adapts to your innovations: Your Precision 5820 Tower is ready for complex projects, including virtual reality workflows, with the next generation AMD Radeon Pro™ and highest-performing NVIDIA Quadro® graphics.
Your workstation supports up to 600W of graphics power and future graphics options up to 300W per card (950W PSU required).
Fine tune audio and video: Effortlessly command your audio and video needs with an optional DPAI audio module capable of handling professional applications.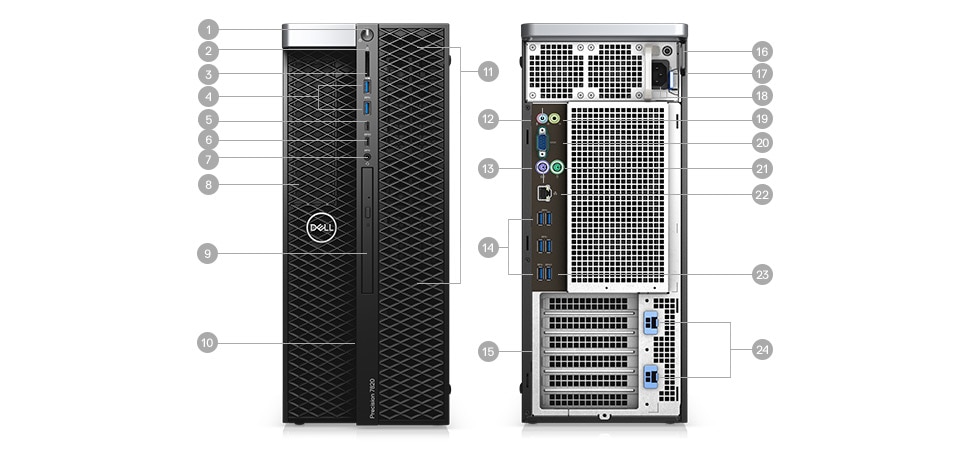 Ports & Slots
1. Power button/Power light | 2. Drive activity light | 3. SD card slot | 6. USB 3.0 Type-C port | 7. Headset port | 8. 5.25 inch bay (optional) | 9. Optical drive | 10. Drive access release latch | 11. Drive carriers
12. Microphone/Line-in port | 13. PS/2 Mouse port | 14. USB 3.0 ports | 15. Discrete graphics card slot (optional) | 16. Padlock ring | 17. Security cable slot | 18. Power cable connector | 19. Line-out port | 20. Serial port | 21. PS/2 Keyboard port | 22. Network port | 23. USB 3.0 port (supports smart Power-On) | 24. Expansion card slots
Dimensions & Weight
1. Height: 417.9 mm (16.30″) | 2. Width: 176.5 mm (6.80″) | 3. Depth: 518.3 mm (19.11″)
Weight: 15.4kg (32.0 lbs)
| | |
| --- | --- |
| 210-ANJK | Precision 5820 Tower XCTO Base |
| 338-BNBX | Intel Xeon W-2123 (3.6GHz, 3.9GHz Turbo, 4C, 8.25MB Cache, HT, (120W) ) DDR4-2666 |
| 379-BBCY | No Additional Cable Requested |
| 387-BBBE | No Energy Star |
| 411-XXYB | Boot drive or storage volume is greater than 2TB (select when 3TB/4TB HDD is ordered) |
| 321-BDCP | Precision 5820 Tower 425W Chassis |
| 340-ACCC | Shipping Docs – English, Arabic, French, Turkish, Portuguese |
| 340-BYTL | English, French, German, Italian, Dutch Setup and Features Guide |
| 340-AGKY | EUP enable info mod |
| 340-ADBJ | Thank You for Choosing Dell |
| 370-ADTE | 16GB (2x8GB) DDR4 2666MHz RDIMM ECC |
| 400-AKZR | No Hard Drive 50 |
| 400-ASSK | 3.5″ 1TB 7200rpm SATA Hard Drive |
| 403-BBRL | Integrated Intel AHCI SATA chipset controller (8x 6.0Gb/s), SW RAID 0,1,5, |
| 412-AALF | CPU Heatsink 5820 Tower |
| 429-ABEP | Slim filler panel (no opt.) |
| 429-AAVR | 16x Half Height DVD-/+RW |
| 430-XYMF | Precision T5820/T7820/T7920 Resource DVD |
| 430-XYIX | Cyberlink Software for Windows 8/ without media |
| 450-AAFM | UK/Irish/MY/SG/HK/Bangladesh/Pakistan/Sri Lanka/Brunei Power Cord |
| 389-CGMZ | Dell Precision Tower 5820 Tower 425W Chassis |
| 480-AAJX | Display Not Included |
| 490-BEBL | NVIDIA Quadro P2000, 5GB, 4 DP (5820T) |
| 555-BBJO | No Additional Network Card Selected (Integrated NIC included) |
| 575-BBCH | No Stand included |
| 570-AAIQ | Dell Wired Mouse MS116 Black |
| 580-ADDF | Dell Multimedia Keyboard – UK (QWERTY) – Black |
| 619-AMQS | Windows  Pro for Workstation (up to 4 Cores) Multi – English, Arabic, French, Russian, Turkish |
| 620-AAYW | Windows  Pro OS Recovery 64bit – DVD |
| 630-ABBT | Microsoft Office 30 Day Trial – Excludes Office License |
| 631-ABMK | Intel vPro Technology Enabled |
| 658-BBLB | Dell Applications for Windows |
| 658-BCUV | Dell Developed Recovery Environment |
| 640-BBRC | Dell Precision Optimizer |
| 525-BBCL | SupportAssist |
| 525-302 M | cAfee Security Center 30 day trial, Digital Delivery |
| 449-BBLT | SATA/SAS Hard Drive/Solid State Drive |
| 888-018 A | sset Service – System Shipbox Label (Model, Svc Tag, Order Information, Basic Config Details) |
| 888-066 N | ot Selected in this Configuration |
| 780-BBCJ | No Raid |
| 817-BBBC | Not selected in this configuration 30 |
| 709-12320 | Base Warranty |
| 709-12322 | 1Yr Parts Only Warranty (Emerging Only) |
| 7-165 Dec | lined ProSupport |
| 7-45334 3 | Y Basic Onsite Service (Emerging Only) |
| 7-45335 I | NFO 1Y Basic Onsite Service (Emerging Only) |
| 799-AANV | Dell Order |
| 328-BCRG | Ship Material Tower 5820,7820 |
| 328-BBNC | Shipping Material for TPM |
Additional information
| | |
| --- | --- |
| Brand | Dell |
| Processor Family | Intel Xeon |
| Processor | Intel Xeon W-2123 3.6GHz, 3.9GHz Turbo, 4C, 8.25M Cache, HT, (120W) |
| Memory | 16GB DDR4 |
| Storage | 1 TB 7.2 RPM SATA |
| Graphics | NVIDIA Quadro P2000 5GB |
| DVD+/-RW | Yes |
| Warranty | 3yr Next Business Day Warranty |
| Operating System | Windows 10 Pro for Workstation |