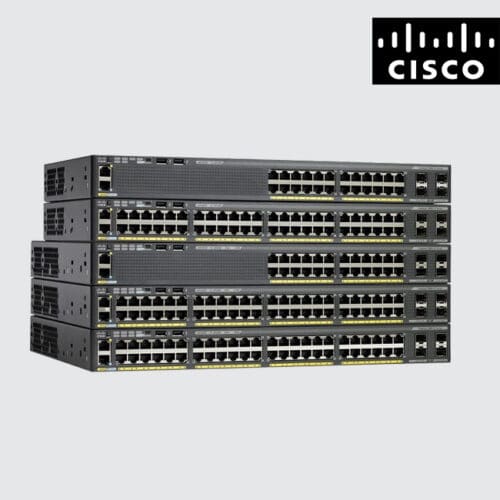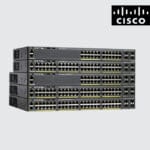 Cisco Catalyst WS-C2960XR-24TS-I Switch 24 Ports

Cisco Catalyst WS-C2960XR-24TS-I Switch 24 Ports
Excl. VAT.
Excl. VAT.
Model : Cisco Ctalyst WS-C2960XR-24TS-I Catalyst 2960-XR Switch
24 GigE, 4 x 1G SFP, IP Lite
Compare
Description
Additional information
Reviews (1)
Description
Cisco Catalyst WS-C2960XR-24TS-I Switch 24 Ports Managed Desktop
Buy WS-C2960XR-24TS-I Catalyst 2960-XR 24 GigE, 4 x 1G SFP, IP Lite Baselayer 2-3 stackable switch is comprised of 24 x 10/100/1000 Ethernet ports and 4 x SFP uplink interfaces
cisco Catalyst 2960-X series switch is a fixed-configuration, stackable Gigabit Ethernet switch that provides enterprise-class access for campus and branch applications.
Designed for operational simplicity to lower total cost of ownership, it enables scalable
offering enhanced simple to use, excellent protected business Processes, greater sustainability, and border-less network practice.
This highly dependable Catalyst 2960 Series consist of new Flex-stack formation with Switch stacking through one and 10 Gigabit connectivity.
The Cisco Catalyst 2960 Series is fixed-configuration access switches those designed for enterprise,
small and medium-sized businesses, and branch office networks to supply with most economical costs of operations.
These high qualities switch using Cisco Energy Wise structure that observes the power of the network and its associated devices and controls the collective power consumption.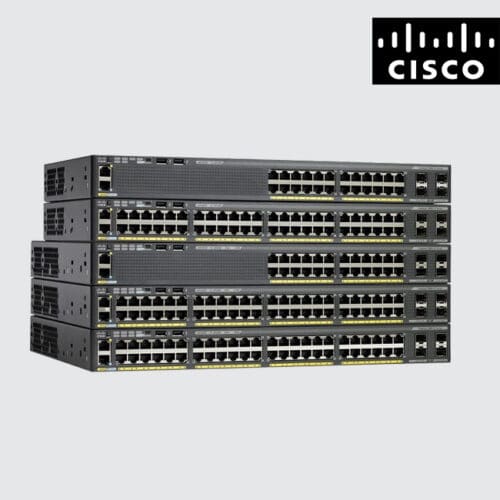 Manufacturer: Cisco
Product Description: Cisco Catalyst 2960XR-24TS-I – switch – 24 ports – managed – desktop, rack-mountable
Product Type: Switch – 24 ports – L3 – managed – stackable
Enclosure Type: Desktop, rack-mountable 1U
Ports: 24 x 10/100/1000 + 4 x Gigabit SFP
Remote Management Protocol: SNMP 1, SNMP 2, SNMP 3, SNMP 2c, RMON 1, RMON 2, RMON 3, RMON 9, Telnet, HTTP, HTTPS, TFTP, SSH
Dimensions (WxDxH): 17.5 in x 16.1 in x 1.8 in
Power: AC 120/230 V ( 50/60 Hz )
Weight: 13 lbs
Features: Rapid Spanning Tree Protocol (RSTP) support, Multiple Spanning Tree Protocol (MSTP) support, DHCP snooping, Dynamic Trunking Protocol (DTP) support, Port Aggregation Protocol (PAgP) support,
Access Control List (ACL) support, Quality of Service (QoS), Link Aggregation Control Protocol (LACP),
Port Security, MAC Address Notification, Remote Switch Port Analyzer (RSPAN) Layer 2 switching, auto-sensing per device, dynamic IP address assignment, auto-negotiation,
BOOTP support, ARP support, load balancing, VLAN support, auto-uplink (auto MDI/MDI-X), IGMP snooping, Syslog support, DiffServ support, Broadcast Storm Control, IPv6 support, Multicast Storm Control, Unicast Storm Control
Product Highlights
Cisco Catalyst 2960-X and 2960-XR Series Switches feature:
24 or 48 Gigabit Ethernet ports with line-rate forwarding performance
4 fixed 1 Gigabit Ethernet Small Form-Factor Pluggable (SFP) uplinks or 2 fixed 10 Gigabit Ethernet SFP+ uplinks
PoE+ support with a power budget of up to 740W and Perpetual PoE
Device management with web UI, over-the-air access via Bluetooth, Command-Line Interface (CLI), Simple Network Management Protocol (SNMP), and RJ-45 or USB console access
Network management with Cisco Prime®, Cisco Network Plug and Play, and Cisco DNA Center
Stacking with FlexStack-Plus and FlexStack-Extended
Layer 3 features with routed access (Open Shortest Path First [OSPF]), static routing, and Routing Information Protocol (RIP)
Visibility with Domain Name System as an Authoritative Source (DNS-AS) and Full (Flexible) NetFlow
Security with 802.1X, Serial Port Analyzer (SPAN) and Bridge Protocol Data Unit (BPDU) Guard
Reliability with higher Mean Time Between Failures (MTBF) and Enhanced Limited Lifetime Warranty
(E-LLW)
Resiliency with optional dual field-replaceable power supplies
Additional information
| | |
| --- | --- |
| Brand | Cisco |
| Product Discription | Cisco Catalyst 2960XR-24PS-I – switch – 24 ports – managed – desktop, rack-mountable |
| Product Type | Switch – 24 ports – L3 – managed – stackable |
| Flash Memory | 128 MB |
| Memory | 512 MB |
| Enclosure Type | Desktop, rack-mountable 1U |
| Interface Ports | 24 x 10/100/1000 + 4 x Gigabit SFP |
| Power | AC 120/230 V ( 50/60 Hz ) |
| Features | Rapid Spanning Tree Protocol (RSTP) support, Multiple Spanning Tree Protocol (MSTP) support, DHCP snooping, Dynamic Trunking Protocol (DTP) support, Port Aggregation Protocol (PAgP) support, Access Control List (ACL) support, Quality of Service (QoS), Link Aggregation Control Protocol (LACP), Port Security, MAC Address Notification, Remote Switch Port Analyzer (RSPAN) Layer 2 switching, auto-sensing per device, dynamic IP address assignment , auto-negotiation, BOOTP support, ARP support, load balancing, VLAN support, auto-uplink (auto MDI/MDI-X), IGMP snooping, Syslog support, DiffServ support, Broadcast Storm Control, IPv6 support, Multicast Storm Control, Unicast Storm Control |
| Warranty | 1 year |